Fake police summons
The following is an e-mail I received recently, purporting to be a summons to contact a police officer. Main things to note:
A French-language version of this scam has been circulating for a while.
A police officer with summons will visit you in person, or deliver the summons via an official channel, not e-mail.
A police officer in his/her official capacity will never use a Gmail e-mail address.
Official e-mail is never sent as a JPG image. The only reason why this one is in JPG format is to defeat the e-mail spam filters.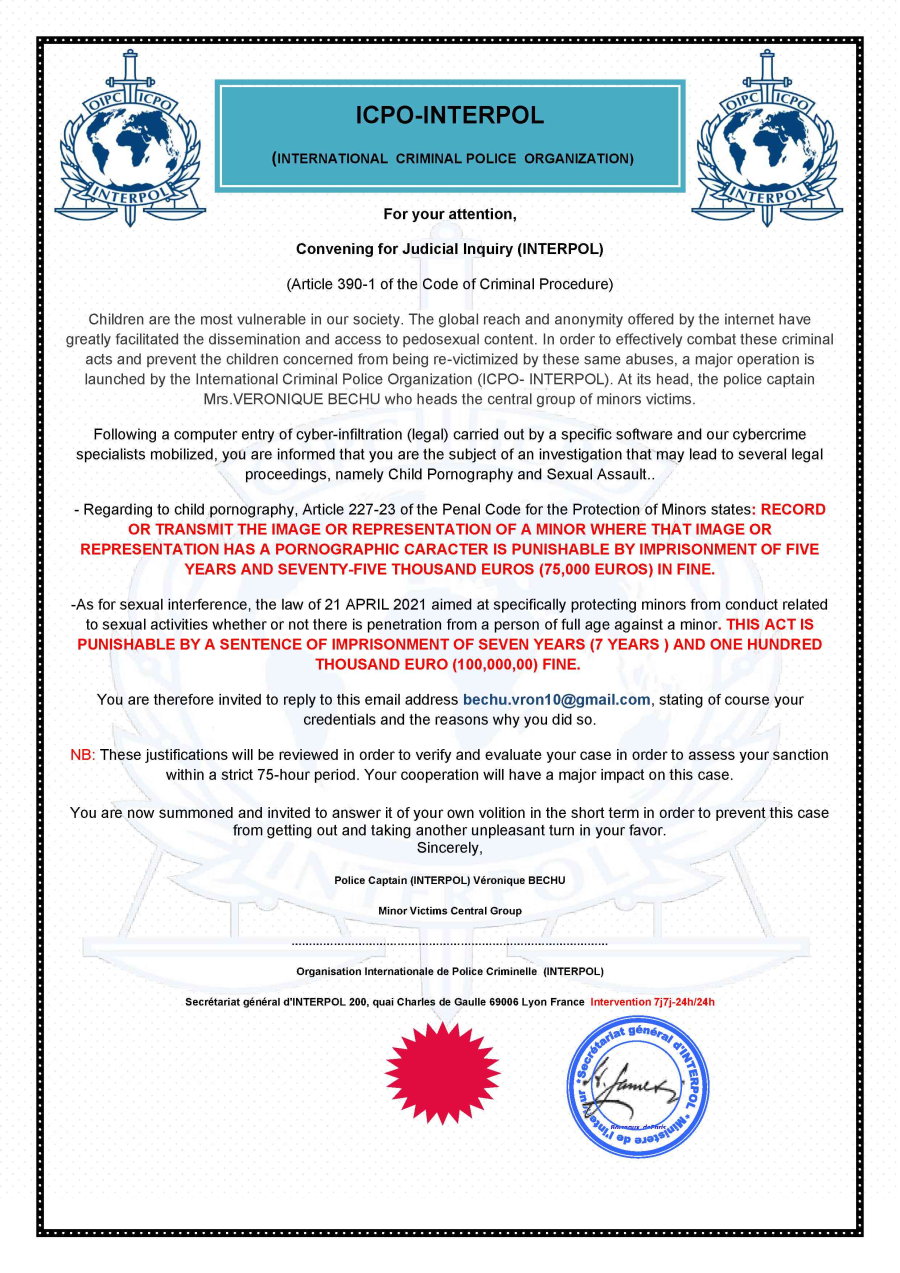 And the OCR text of the fake summons, to make it indexable by web spiders:
ICPO-INTERPOL
(INTERNATIONAL CRIMINAL POLICE ORGANIZATION)

For your attention,

Convening for Judicial Inquiry (INTERPOL)
(Article 390-1 of the Code of Criminal Procedure)

Children are the most vulnerable in our society. The global reach and anonymity offered by the internet have greatly facilitated the dissemination and access to pedosexual content. In order to effectively combat these criminal acts and prevent the children concerned from being re-victimized by these same abuses, a major operation is launched by the International Criminal Police Organization (ICPO-INTERPOL). At its head, the police captain Mrs.VERONIQUE BECHU who heads the central group of minors victims.

Following a computer entry of cyber-infiltration (legal) carried out by a specific software and our cybercrime specialists mobilized, you are informed that you are the subject of an investigation thar may lead to several legal proceedings, namely Child Pornography and Sexual Assault..

-Regarding to child ,pornography, Article 227-23 of the Penal Code for the Protection of Minors states: RECORD OR TRANSMIT THE IMAGE OR REPRESENTATION OF A MINOR WHERE nvn IMAGE OR REPRESENTATION HAS A PORNOGRAPHIC CARACTER IS PUNISHABLE BY IMPRISONMENT OF FIVE YEARS AND SEVENTY-FIVE THOUSAND EUROS (75,000 EUROS) IN FINE.
-As for sexual interference, the law of 21 APRIL 2021 aimed at specifically protecting minors from conduct related to sexual activities whether or not there is penetration from a person of full age against a minor. THIS ACT IS PUNISHABLE BY A SENTENCE OF IMPRISONMENT OF SEVEN YEARS (7 YEARS) AND ONE HUNDRED THOUSAND EURO (100,000,00) FINE.
You are therefore invited to reply to this email address bechu.vron1O@gmail.com, stating of course your credentials and the reasons why you did so.

NB: These justifications will be reviewed in order to verify and evaluate your case in order to assess your sanction within a strict 75-hour period. Your cooperation will have a major impact on this case.

You are now summoned and invited to answer it of your own volition in the short term in order to prevent this case from getting out and taking another unpleasant turn in your favor.

Sincerely,

Police Captain (INTERPOL) Veronique BECHU

Minor Victims Central Group
Secretariat general d'INTERPOL 200, quai Charles de Gaulle 69006 Lyon France Intervention 7j7j-24h/24h
Needless to say, simply ignore these fake summons. They have not been issued by an authority, the creator of this spam is not in possession of any evidence against you, the same spam has been sent at random to hundreds or thousands of e-mail addresses in the hope that someone will fall for this trick, no one is going to fine you 100,000 € because of these summons, and the only purpose of this spam is trying to intimidate you in order to get you to part with your hard-earned money.
Should you choose to reply to the e-mail address indicated in the fake summons, most likely you will receive a reply with a request for a "down-payment" or "financial settlement" via a non-traceable payment method (usually Bitcoin) to temporarily suspend the (nonexistent) investigation against you, and should you pay the requested sum, you will continue to receive extortion requests until your money, or life, or patience runs out.