Digital photography for science
The scientific photography of small subjects encompasses the domains of close-up photography, macrophotography and photomacrography, and is a primary documentation tool in many research fields.
This book concentrates on the choice and practical use of digital cameras, lenses and related equipment of types commonly available at research institutions and museums. The described techniques are suitable for subject sizes between approximately half a millimeter and half a meter, and differ from those used in general photography and microscopy.
The intended audience of this book includes professional scientific photographers, scientists and students who need to carry out photography in support of their own research or as part-time scientific photographers at a research institution, and advanced amateur photographers who wish to master these techniques.
Where to buy it: You can purchase this book online from the Lulu online shop, which is probably the source that offers the lowest price. You may save 50% or more by purchasing from this source.
Before you head to the following links check on the main Lulu web page whether they are offering a campaign discount coupon. They often do, especially before major holidays, and you may get free shipment or a discount coupon of up to 25% if you are lucky. You can combine discounts on the book.
The following links provide also access to a preview of selected portions of the book (or follow these links for more information on the hardcover and paperback editions). This is probably the source where you will find the lowest price for this book (except for second-hand copies). It accepts worldwide orders and ships from multiple international locations. However, it is possible that some international buyers will find it more advantageous to order from other sources and pay lower shipment costs.
Hardcover edition, in a durable binding (ISBN 978-0-557-91133-2), or
Paperback edition, cheaper (ISBN 978-0-557-92537-7). The contents are identical.
Where to read reviews
Review published on African Invertebrates (offline as of 2022)
Review published on the Journal of Vertebrate Paleontology (free access requires a subscription, or academic access)
Where to read parts of the book
See the Book details section.
If you cannot, or don't wish to, order the book from Lulu, you can order it from Amazon. It is currently available, for instance, on the following sites. Note that currently there is a slight confusion on Amazon about the type of binding. The correct type of binding comes in parentheses, immediately after the title, e.g., Digital photography for science (hardcover) is the hardcover edition, even though it is followed by a [paperback] indication in square brackets.
This book may be available also on other Amazon national sites that I have not checked. It may not appear on the Amazon web sites of certain countries, especially those targeted to prevalently non-English speaking customers. The price on Amazon is ordinarily not discounted, and I have no control over Amazon promotional campaigns. Amazon may ship this book for free, depending on the destination address.
The book is available also from online retailers (including Barnes & Noble, Books a Million, and Indie Bound, traditional bookstores, academic bookstores and a number of other retail outlets. Retail prices and shipment costs may vary.
I do not directly sell this book. Please direct any purchase inquiries to one of the above channels. This book is not available for purchase in electronic format.
If you do not wish to purchase your own copy of the book, you may apply for a loan of a copy from a public or educational library. If you cannot find copies in public libraries, school libraries and university institutions, you may encourage them to purchase copies and to add them to their catalogs. If you need only a small portion of the book, with any luck you may read it for free on one of the Amazon sites (see details below).
Book details
A partial preview of the book is available online at Amazon (see the above links). If you are an active Amazon customer and have made recent purchases on an Amazon site, log in and you will have access to a very large preview (almost half of the book). A large preview is freely available on Google Books. Don't miss this one. If you are lucky, the information you seek may be available for free here.
The book consists of 704 pages and 161 black-and-white illustrations. It is printed on 6" by 9" cream paper (60# weight). The hardcover edition has a full-color dust jacket.
Downloads of additional materials
Additional materials for this book can be downloaded from the links below. Errata lists for the first edition, and any subsequent editions, will be created and updated as necessary, and will also be available for download.
To start a download, right-click one of the "Download" buttons at the left of the titles below, then click the "Save link as..." menu item (the name of the menu item may vary with the type and version of web browser). Alternatively, click the desired button, and after the file open in the appropriate software (usually, Adobe Reader for PDF files, or Excel or another compatible program for .xls files) select "Save as..." from the File menu item.
Additional materials (PDF file). Relatively small file, good image quality (see below).
Additional materials (PDF file). Large file, no image compression, highest image quality. Note that, on a slow Internet connection, downloading this file may be impossible, or may require several minutes. Before downloading this file with a mobile Internet connection (mobile phone or equivalent mobile adapter) with a limited bandwidth or pay-per-megabyte subscription plan, make certain that the cost of the download will not exceed your expectations, and that the speed of the connection will allow a successful download of large (130 MB) files.
Both files contain a PDF document with high-resolution versions of selected illustrations from the book. Some of these materials are in color.
The first of the above links allows the download of a relatively small file (14 MB) which contains compressed images of a slightly lower quality than the second file. This smaller file is fully adequate for printing on paper (most likely, no difference is visible between paper printouts of the two files, even on the best printers).
The second of the above links is for downloading a large file (127 MB) without compromises on image quality. The file size is an unavoidable consequence of the high quality and high resolution of the illustrations, which on most computers can be observed without loss of detail up to a magnification of 200% (in Adobe PDF Pro or Adobe PDF Reader, in some cases a 400% magnification is still acceptable).
Except for the image quality and file size, the contents of the two files are identical.
The above file and illustrations are copyrighted, but may be downloaded for free. The copyright notice in the file also states that you may print copies of the file on paper, or have them printed at a commercial print shop or public library. If these establishments inquire about your holding a permit to print these copyrighted materials, show them the copyright notice contained in the PDF file.
This file may not be displayed properly with versions of Adobe Acrobat Pro or Adobe Acrobat Reader earlier than version 9, or with third-party PDF software.
References. This PDF file contains the complete list of bibliographic references, as published in the book. This file may make it easier to locate these references in online library catalogs.
Errata list. This PDF file contains a list of known printing errors. The current version of this document was last updated February 1, 2011.
Excel spreadsheet for computing the depth of field in small-subject photography.
You can use a recent version of Microsoft Excel to run this spreadsheet. It also seems to work correctly with OpenOffice Calc, but I have not tested it thoroughly with this application. A few instructions on the use of this spreadsheet are provided below.
The file is zipped. Its contents can be accessed in Windows Explorer on recent versions of Microsoft Windows. An unzip utility may be needed on other operating systems and older versions of Microsoft Windows.
The main table (above picture) is displayed at the top left of the spreadsheet. It tabulates DoF values in mm, arranged by nominal aperture and magnification. Additional parameters are configured by inputting them in a gray panel (picture below) located at the right of the table. Values in fields with green background are safe to use, i.e. resolution at these values is not limited by diffraction at normal image viewing conditions (as discussed in Volume 1, section 2.4 and its subsections). Values on a yellow background indicate that image sharpness begins to be visibly affected by diffraction. These values can be used if a minor decrease in resolution is acceptable. Values on a red background yield images quite visibly affected by diffraction and should not be used, except in cases where the images will be printed or displayed at a substantially reduced size.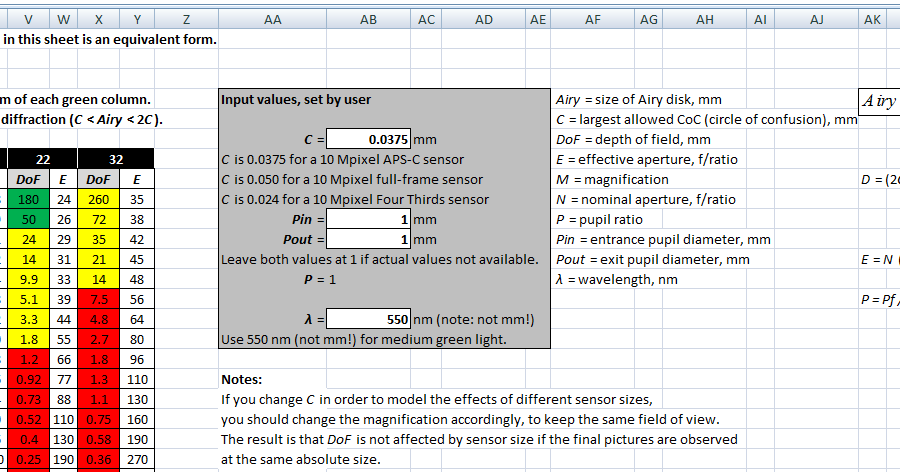 Once appropriate values are entered in the white fields of the gray configuration panel, the tables are automatically updated. Note that the values for C are no longer suitable for current system cameras, but you can manually enter a value for C that is more realistic for your camera.
Additional tables are located below the one discussed above. They can be used in particular circumstances (e.g. for choosing an appropriate slice thickness in focus stacking).
An additional table (above picture) is located below the configuration panel. In this table, it is possible to edit the values for the nominal aperture (topmost row of the table) and magnification (leftmost column). The resulting changes are propagated to the rest of the tables. This allows the tabulation of specific values of the nominal aperture (e.g. intermediate values between full stops) and magnification.
The spreadsheet is locked to protect it against accidental changes. If desired, it can be unlocked by using the password "password" (without quotation marks). Naturally, you must take responsibility for any mistakes resulting from changes you make to the spreadsheet and its logic.