Peak Design large Camera Cube
and other camera inserts
Peak Design markets a number of bags, including 45 l and 65 l travel backpacks and duffel bags. Most of these can be filled with a variety of Peak Design Packing Cubes, as well as Camera Cubes. The latter are available in three sizes. A Camera Cube is basically a padded insert with customizable Velcro partitions. In spite of the name, none of the three sizes of Peak Design Camera Cubes are actually cubic in size, but they are roughly brick-shaped. Camera Cubes are meant to be attached to the interior of a Peak Design backpack or duffel bag with a number of proprietary clips.
Part of the following discussion deals with the Peak Design large Camera Cube, which has a nominal capacity of 18 l. I do not own any of the Peak Design travel backpacks and bags, and this review describes my use of the camera cube with third-party backpacks. I did not consider purchasing a Peak Design travel backpack because I need a hiking backpack that is comfortable to carry for several hours and not much larger than necessary to contain the camera cube. The Peak Design backpacks are designed for light weight and travel use, rather than long hikes in the field.
You can read my current requirements for photographic gear in my review of the Tenba Axis 24l camera backpack. My requirements for equipment fitting the Peak Design large Camera Cube are the same.
The internal size of the three Peak Design Camera Cubes, as specified by Peak Design, is:
| | | | | |
| --- | --- | --- | --- | --- |
| Model | capacity (l) | W (cm) | H (cm) | D (cm) |
| small | 6 | 29.2 | 15.2 | 15.2 |
| medium | 12 | 27.9 | 27.9 | 15.2 |
| large | 18 | 30.5 | 40.6 | 15.2 |
And, for comparison, the external sizes:
| | | | |
| --- | --- | --- | --- |
| Model | W (cm) | H (cm) | D (cm) |
| small | 32 | 16 | 17 |
| medium | 32 | 32 | 17 |
| large | 32 | 46 | 17 |
There is an apparent mismatch between the specified internal and external sizes. The height of the large insert is specified as 40.6 cm (internal) and 46 cm (external). Simply subtracting the internal from the external height would seem to imply that the padded top and bottom are each 2.7 cm thick. The truth is that this padding is only about 1 cm thick. My specimen of this Camera Cube is only 44 cm high, and it is possible that the nominal external height includes the thickness of the main hatch when folded back at the bottom of the insert. Top and bottom are also slightly convex, and the amount of equipment packed in the insert can make it bulge by a couple of cm.
The depth of the insert in all models is enough to store most lenses end-first, which allows a better access to the equipment. In addition, for short lenses and small items, a few of the dividers, called "shelf dividers" by Peak Designs, have a movable flap that further subdivides the height of the compartment in half. Two small items can be stacked in a shelf divider on top of each other, with suitable padding between them. Only the topmost item is directly accessible.
The depth of the Camera Cube is sufficient to store mirrorless and DSLR camera bodies vertically, which is how I prefer to pack my cameras. In this way, a camera can be extracted by grabbing the handhold on the right side of the camera with the right hand. This storage orientation also allows me to open the memory card door of a camera and pull out the card without extracting the camera from the bag.
Model sizes and capacity
The small Camera Cube is limited in capacity (one mirrorless body, two largish lenses, and one or two really small ones).
The medium Camera Cube is about twice the internal size of the small one. The padding of the external shell might be a little thicker too, so the internal size is not as large as expected from the nominal external size. Also, the height of the main hatch is slightly less than the external height of the insert. This makes it a little difficult to insert a long telephoto lens of exactly the same height as the interior of the insert.
The large Camera Cube is equivalent to a dedicated 25 l camera backpack in capacity, but is less conspicuous than a backpack when hand-carried (because it has no shoulder straps, waist belt and hanging ribbons and clasps) and is not likely to attract the attention of flight attendants ambushing passengers at the plane door to force them to check in their hand-carry luggage. This allows me to quickly play the trick explained at the above link and still carry my camera stuff with me into the cabin.
The large insert lets me pack two bodies with attached lenses, plus a 300 mm f/4 or 70-200 f/2.8, four smaller lenses, a speedlight, battery chargers and spare batteries. Incidentally, it is safer to pack your kit for a long trip with no lenses mounted on the camera bodies. This also allows you to better use the space available in the Camera Cube.
If your camera kit for travel by air is larger than the above, you probably need to split it between two persons anyway, or to insure and ship large items separately. Also, note that I have no tripod in my hand-carry. I can see no reason why a tripod cannot travel in my checked-in luggage, safely padded with clothes in a rigid suitcase. Or just stay at home if I am flying on an economy carrier with no free checked-in luggage allowance. Image stabilization is very good these days, as long as you don't need exposures longer than a couple of seconds.
Quality and handling
This camera insert is well built and its outer shell sufficiently padded. The movable dividers are quite thin and very lightweight, but stiff because they are form-pressed with a pattern of oblique ribs and internal channels. This type of Peak Design structured inserts, used also in other Peak Design bags, is highly configurable, and much thought seems to have been put into its design.
Typical partitions in other inserts are just a flat sheet of foam of variable thickness, stiffness and durability, sewn within a pocket of synthetic cloth. Most of these do their job of padding and keeping in place the pieces of photographic equipment, but at the expense of a higher weight and volume. Some of the cheapest partitions are stuffed with very lightweight closed-cell plastic foam meant for one-time packaging, instead of a more durable material.
The large Camera Cube comes with a total of 11 dividers, which should be sufficient for most needs. A "floating pocket" of a similar design is also included with each cube, and provides a number of internal, thinly lined pockets for memory cards and other flat accessories. The back of this pocket is lined with Velcro along three sides, so you are free to decide where in the insert to place it, and in which orientation.
All partitions are Velcro-compatible, so you are free to attach partitions to each other in any position. You can also stack partitions in two layers for increased padding, particularly since they are thinner than average dividers. One of the few things I initially did not like about the dividers is that the three longest ones are not long enough to run from the top to the bottom of the large Camera Cube. You need to combine multiple dividers to do this, by placing one of the long dividers horizontal and the other two vertical like the strokes of a Π. Alternatively, you can place all three of the long dividers horizontally (like 三), but in this case you will lose the use of the side hatches.
The longest lens I am likely to put in this Camera Cube is the Olympus 300 mm f/4 Pro, which has a physical length of 23.5 cm with front and rear caps. The 32 cm length of the long inserts accommodates this lens in a horizontal or vertical orientation (albeit not inserted end-first through the main hatch) with space to spare.
This camera insert has a large (41 x 26 cm) main hatch on its largest side, and a smaller hatch on either side, large enough to extract a mirrorless camera with lens. There is no top hatch. A non-padded but internally stiffened carry handle is attached at top and bottom of the Camera Cube. Since this is an insert meant to be used inside a backpack or bag, the only concession to branding is a small and unobtrusive patch with the Peak Design logo on the top of the insert.
A sketch of this Camera Cube on the Peak Design web site shows side doors almost as high as the large Camera Cube. This does not reflect the actual height of the side doors, which is about half of the insert height. The medium Camera Cube has side doors almost as high as those of the large model. The small Camera Cube has no side doors, only the main hatch.
20 eyelets of two different types (either cord or flat ribbon) are distributed around the exterior of the insert. The ribbon ones are meant for attaching the insert within a Peak Design travel packpack with special plastic clasps (supplied with the insert). A shoulder strap can also be attached to these eyelets. I do not recommend attaching small bags or pouches outside the insert. It is much safer to place everything inside and have nothing hanging out. In this way, if you need to quickly extract the insert and check in the empty backpack at the gate, nothing outside the insert can get snagged or lost while you make your way to the plane seat, or when stored in the overhead luggage compartment. To prepare for this eventuality, you should additionally carry a travel cover for your backpack, to protect it before checking it in and prevent straps and clasps from being torn or lost by luggage handlers.
The bottom and all four sides of the insert (including the interior of the side hatches but not of the main hatch) are covered internally with Velcro felt. This gives a complete reconfigurability of the partitions. In fact, if you choose to give up the use of one or both side hatches, you can attach partitions to their interior.
The zippers seem to be of good quality, but they are not as rugged as those of good backpacks. They are, however, strong enough to keep the insert close during travel. I leave the main door unzippered when I carry the insert in a backpack in the field. The zipper of the main hatch has two pullers (thus allowing the main hatch to be closed, partly open, or completely open), but the zippers of the side hatches only one (not a problem, since these doors are used either completely open or completely closed).
Many (perhaps a majority of) camera backpacks and camera inserts with Velcro dividers lack Velcro-compatible felt on part of the interior, which forces a part of the space to remain a single big compartment. This space is typically uppermost in the backpack, and often twice as big as actually required by a mirrorless camera with lens. I strongly prefer to have complete freedom of where to attach the Velcro partitions, and therefore do applaud the Peak Design solution.
The main hatch can be folded back around the bottom of the insert when the latter is placed in a backpack. This of course requires the backpack to provide some kind of padding between the equipment and the exterior. If your backpack does not provide this padding, better leave the hatch in place. Before air trips, the best option is to always zipper the insert shut, so that you can quickly extract it without spilling the contents.
Six proprietary plastic clasps with metal closures are provided. These are meant to attach the insert inside a compatible Peak Design backpack by its six ribbon eyelets.
Peak Design appears to make, or at least plan, a kit of two shoulder straps available as an accessory, which attach to some of these eyelets and transform the large insert into a travel backpack wearable on its own. These straps are shown in a Peak Design video, but I cannot find them anywhere else on their web site. Like the harness of their travel backpacks, these straps are minimally padded and designed to be as lightweight as possible. I would consider using these straps only if I anticipate having to carry the Camera Cube on my back for a relatively long time.
The above picture shows that the large Camera Cube has more than enough space for my "maximum" kit, in spite of its nominal capacity being 9 liter less than the Tenba Axis 24l and 4 liter less than the Lowepro insert I carry in the Wisport Caracal. The relatively thin inserts of the Camera Cube partly explain this.
Peak Design medium Camera Cube
As mentioned above, the medium-size Peak Design Camera Cube is exactly two-thirds the height of the large Camera Cube discussed above. It makes sense to use this medium insert in third-party backpacks that are too short for the large size, or in cases where a part of the backpack must be reserved for essential clothing or supplies, other than camera equipment.
In my specific case, the Wisport Caracal backpack I often used in the past is too tight for the large as well as the medium Peak Design Camera Cube. Either camera cube fits in the Wisport Whistler II 35 l, and the medium Camera Cube leaves about one-third of this backpack available for other items.
Using the medium Camera Cube instead of the large one means in practice leaving the 300 mm f/4 at home, which I may do if I know that I will not need a long telephoto lens. If necessary, the Wisport Whistler II 35 l can accommodate a lens case long enough for the 300 mm in addition to the medium Camera Cube. This backpack even allows me to hang truly PALS-compatible lens cases externally on the sides, top and bottom of the backpack, if needed (the PALS webbings on the main hatch are best not used for heavy add-on pouches).
Other camera inserts
Camera inserts use two basic types of design of the Velcro attachment of their internal partitions. The safest type uses Velcro strips along three sides of each partition, which fasten to the bottom of the insert as well as its sides (or to other inserts). This is accompanied by large Velcro-compatible patches on the internal sides and bottom of the outer shell.
The second type of partition uses only two Velcro strips at either end of the partition. This is acceptable for short partitions, but longer partitions that are not attached to the bottom of the insert may allow items to pass from one compartment to another during transportation. They also allow the insert to more easily lose its shape under load.
The best and most versatile inserts use a combination of both types of partition. Cheaper and/or more basic inserts may use only the second type of partition. The amount of surface of the insert shell interior that allows Velcro attachment is also variable, with the best inserts being totally lined in Velcro-compatible felt, while others may save on manufacturing costs by skimping on the size of these patches. The worst and cheapest examples only have a few Velcro-compatible strips stitched to their interior.
A type of insert more frequently used in rigid cases (especially for hand tools), but sometimes seen in camera bags, uses plastic or metal C-shaped clips inserted in channels through the middle layer of the partition to attach the inserts to each other and to the outer shell. Peli calls its version of this modular insert TrekPak.
The materials used for padding are much variable. The outer shell of some inserts contains two or three layers of different materials and different mechanical properties. Low-cost inserts typically are padded with the same type of white closed-cell plastic foam normally used for one-time mail packaging. Better inserts may use a closed-cell synthetic rubber sheet, which is far more durable but a little heavier.
Among the camera inserts comparable in size and use to the Peak Design large Camera Cube, the Wandrd Camera Cube Pro has an internal size of about 40 by 10 by 26 cm. It differs from the Peak Design insert in having two main hatches instead of one (with one of these hatches partly getting in the way of access if rolled up) and is also significantly more shallow, forcing one to insert most lenses sideways rather than end-first. The Pro + model has a moderately higher capacity, but the height of 47 cm restricts the choice of a third-party backpack.
The f-stop Pro Internal Carry Unit large is also comparable in capacity, with a higher depth (16.5 cm) than the Wandrd one mentioned above, and its single hatch provides complete access to the storage space. The simple brick-like geometry makes it look a little less sophisticated than other inserts, are may require a really large backpack or suitcase to fit well.
The pacsafe Camsafe Protective Camera Insert (PCI) Large is smaller but sufficiently deep (16 cm). It looks a little basic in its reconfigurability.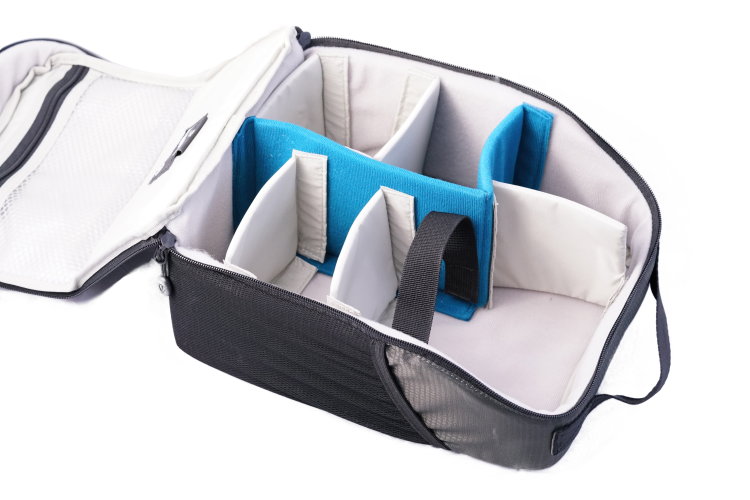 The Tenba BYOB 10 DSLR Backpack Insert is the largest backpack insert currently offered by Tenba. At 31 cm high by 25 cm wide by 13 cm deep (external size), it is much smaller than the other backpack inserts discussed here. This Tenba backpack insert is well made and can carry a single mirrorless body and up to 5 lenses (or two bodies and four lenses) in a small day-pack. Its outer wall and internal partitions are relatively thin to save space, but still sufficiently padded for most uses except really rough handling while trekking. The main hatch opens either halfway or fully on the largest side of the insert (31 by 25 cm) and partly exposes the contents also along the top. Elastic pockets are attached to the external sides of the insert. I use this camera insert in a Wisport Sparrow 16 l backpack.
Do not confuse the Tenba BYOB 10 DSLR Backpack Insert with the Tenba BYOB 10 Camera Insert, which is a different, even smaller (22 cm wide by 21 cm high by 13 cm deep external size) insert with space for a single mirrorless body and 3-5 lenses. The outer shell of the insert is surrounded by non-padded pockets, some of them elastic. The lid can be folded back and tucked into the closest pocket to keep the insert open within a bag. Two more sizes are available, with the following external measurements (specified with the opening of the insert oriented uppermost):
| | | | |
| --- | --- | --- | --- |
| Model | W (cm) | H (cm) | D (cm) |
| BYOB 9 | 23 | 17 | 10 |
| BYOB 10 | 27 | 20 | 11 |
| BYOB 13 | 34 | 24 | 13 |
The Tenba BYOB camera inserts are primarily meant to be used in a messenger bag. However, two of these inserts could be placed in a backpack, in case the size of the backpack makes it impossible to find a suitable backpack insert that fits all the available space. For example, if the packpack allows both top and side access, a BYOB 13 can be placed with its opening toward one side of the backpack, and a BYOB 10 or BYOB 9 can be placed placed atop the BYOB 13 and with its opening uppermost. It is also possible to combine one of these insert with a medium Peak Design camera cube.
Unfortunately, the Tenba BYOB camera inserts lack tie eyelets. There is a looped ribbon at either end of the lid zipper that is not meant as a tie point but could be used for this purpose.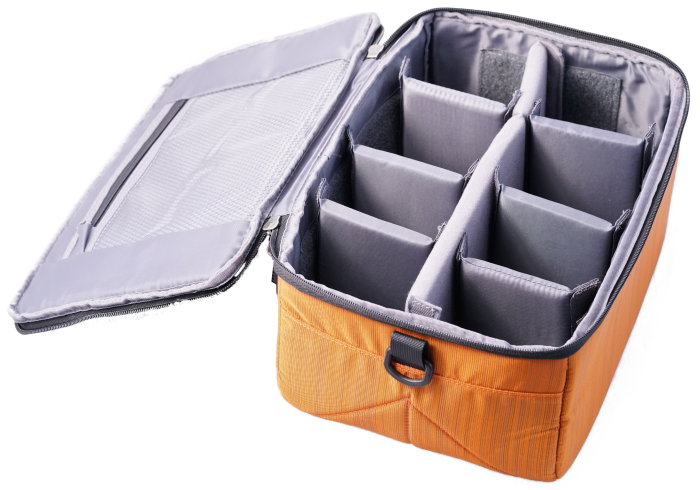 Numerous types of no-brand backpack and bag inserts are sold on eBay by Chinese sellers. These inserts are considerably cheaper than branded ones from well-known companies, but they tend to be more basic in their choice of materials, features and reconfigurability. Strength of the stitchings can also vary. One of the problems with these no-brand inserts is that they are typically sized for large DSLRs and lenses, and difficult to configure for a good use of the internal space with mirrorless kits. This is the case, for example, with the orange bag insert in the above figure.
Incidentally, the stitchings visible on the exterior of this insert have the purpose of allowing the outer shell to fold flat, once the dividers have been removed. Virtually none of the high-quality inserts discussed above can be flattened, since this capability only helps the seller to save space when shipping the item. This feature is not particularly useful to the user (how often do you need to flatten your camera insert?), and the built-in folds that allow flattening may in fact make the insert less resistant to crushing.
The insert in the above figure is relatively large (35 by 25 by 16 cm external size) and its dividers provide up to 8 compartments, each housing a lens up to 14 cm long or two shorter lenses stacked atop each other (albeit without built-in padding between the two). Less than half of the bottom and sides are internally covered in Velcro-compatible felt, which limits the reconfigurability of the dividers. The topmost couple of cm near the zipper are also devoid of attachments for the dividers (in spite of the dividers having Velcro strips long enough to almost reach the zipper, which gives an impression of poor planning and mismatched parts). I find this type of insert more useful for safely storing a large number of infrequently used lenses that may need to be moved at a moment's notice, rather than as a bag insert to carry equipment in the field.
Two of these inserts fit snugly side-by-side in an empty Peli 1550 protector case, providing a larger number of compartments at a price much lower than the Peli TrekPak set or the Peli Divider Set for the same case.
One of these inserts fits in a 4317 Euro box (external size 40 cm long, 30 cm wide and 18 cm high including the lid), as long as it is not overstuffed. Two of these inserts, stacked atop each other, fit adequately in a 4333 Euro box (external height 33 cm including the lid). Multiple Euro boxes can be safely stacked atop each other.
Matching a camera insert with a third-party backpack
Placing a camera insert in a third party general-purpose backpack has the advantage that the backpack is not immediately identifiable as containing camera equipment, and therefore is less likely to attract unwanted attention. There are many situations in which a visually understated backpack is far more desirable than an easily identified camera backpack. In fact, I can hardly imagine any situation where the opposite would be true.
In general, if you choose to use a camera insert in a third-party backpack, you are on your own in making sure that the two items fit each other (unless you can find information on the Internet that reports success with a specific combination of insert and backpack). Fitting a slightly too large insert in a backpack puts a strain on the backpack zippers and seams, and is generally not recommended. Even a just-right-fit can make the backpack difficult to close, which defeats the purpose of using it as a camera backpack. The best solution is probably an insert that sits a little loose in the backpack and does not force the latter to take a different shape than it is designed for. If the insert and backpack have mutually compatible tie points that allow the insert to be fixed within the backpack (e.g. with ribbons, clips or parachute cord), even a loose-fitting insert may work well, and leave useful space in the backpack for a windbreaker or a change of clothes.
In general, I like backpacks with external PALS webbings, because there are plenty of cheap add-on pouches and bags on the market that can be attached to these webbings to provide additional storage, and can be removed during travel to make it less likely that the extra bits and bobs will come loose or snag to seats and fittings of public transportation. I also like my backpacks to have generously wide and padded back harness, shoulder straps, and hip belt. The sternum strap should not accidentally come loose from the shoulder straps (I lost the sternum strap twice from different Lowepro backpacks). Plastic buckles that allows each shoulder strap to be opened while wearing the packpack can make it easier to slip out of the harness if the backpack is heavily loaded.
While the sizes of camera inserts published by their makers are generally reliable, the internal dimensions of trekking backpacks are often not specified beyond their volume in liters. Even when height, width and depth are specified, they may apply to just one point along the backpack. These measurements are only indicative in a non-rigid backpack, and depend to a significant extent on how much you are willing to stuff it. Also, many backpacks (especially military-style day-packs) have fixed internal partitions that make it impossible to fit a given camera insert, even when the external measurements seem to indicate so.
The way and extent a backpack opens is essential in determining its usability as a camera backpack. Large backpacks that open only at the top, like a sack, are pretty much useless as camera backpacks. In general, to provide access to the whole insert, you want a clamshell backpack that opens in two halves (or with a large hatch) along its whole height. If the harness side opens like a lid, this side faces upward when the backpack is opened, and is less less likely to become soiled with mud. Soiling the opposite side is less of a problem, as long as the harness remains dry and clean. My second-preferred solution is a backpack that opens in two halves or along its rear side (i.e., the side that faces away from my back, which is often nonsensically called the "front" of the backpack). An external waterproofing of the bottom of the backpack helps to keep it cleaner, even when the whole backpack is internally waterproof.
The large Camera Cube is specified by Peak Design as having an internal capacity of 18 l. Based on the actual external dimensions of this insert, the total volume including the outer shell is 24 l. Therefore, a backpack suitably sized to contain this insert should have a minimum capacity of 25-26 l if its shape closely matches the Camera Cube, or 30 l for a better fit. Any volume in the backpack not filled by the insert could become useful as additional storage, especially for loose items of clothing.
Based on information available on the Internet, it proved impossible for me to find a backpack of 30 l or less with sufficient width and depth to contain this insert without putting a strain on its zippers. All clamshell backpack models in this category that I researched turned out to have an insufficient width and/or depth. For this reason I went up one "notch" in backpack capacity and selected a Wisport Whistler II 35 l, which has a well-padded harness and hip belt, as well as a main compartment of sufficient height, width and depth and a main hatch big enough to provide complete access to the interior of the insert.
The 30 l Wisport Sparrow II has a general shape similar to the 35 l Whistler II, but with a proportionally larger second compartment. This backpack might be suitable for the Peak Design large Camera Cube, but I did not find anywhere online the internal dimensions of its main compartment. I asked Wisport, but they did not reply. Assuming that the main compartment of this backpack is large enough (which I still do not know), the 30 l Sparrow II could be a cheaper and more basic alternative to the 35 l Whistler II. Unlike the Whistler, the Sparrow has no internal PALS panel, fewer external straps, and its waist belt is a simple, non-padded ribbon.
The 25 l Wisport Caracal is way too narrow and shallow for the Peak Design large and medium Camera Cubes, and the wide-bottomed pear-shape of this backpack is a wrong fit for the shape of the Camera Cubes.
The 25 l Wisport Zipperfox is also too narrow for this Camera Cube. The design of this backpack with multiple zippers around its main compartment is otherwise interesting, as it allows comfortable access from the top and either side, in addition to flattening out fully when the zippers are completely opened. It may be worth researching whether a different camera insert, or a combination of smaller inserts (perhaps attached to a removable third-party PALS panel), is feasible for the 25 l Zipperfox. There is also a 40 l model of this backpack, which is oversized for a 20-25 l camera insert alone.
Summary
A camera insert can turn a suitable third-party backpack into a visually understated camera backpack. In many situations it is highly desirable to avoid undesired attention when carrying a camera kit in the field or on a trip. Several different types of camera inserts for backpacks are available, of varying quality, price, size and features. Buying online a suitable third-party backpack for a given camera insert involves extensive research and some uncertainty, as the internal dimensions of backpacks are rarely specified beyond their volume in liters.