These are PDF copies of old manuals, booklets and sales brochures. They are hard to get and contain useful information on equipment which has not been in production for many years. I see often photocopies or electronic copies of similar manuals for sale on the Internet, and I would rather give away copies of mine for free. I can see no copyright notice on these manuals, so I assume they are not copyrighted.
The files are hosted on a commercial file server. Clicking on one of the links below will bring you to an intermediate download page on the file server, whene you need again to click on the appropriate link. You must wait a while for the files to completely download to your machine.
Unless otherwise indicated, this literature is at least in part in English.
Ihagee literature
Das Ihagee Kolpofot (1959, in German)
Leitz and Leica literature
Leitz Focomat IIc enlarger (in German)
Leica M420 assembly diagram and part numbers
Leica M420 system sales brochure.pdf
Leica Z6 and Z16 system diagram
Polaroid literature
MP4 Assembly and use.pdf (1982)
Wild literature
Wild M400 Instructions Manual.pdf
Wild M410/M420 Instructions Manual.pdf
Zeiss literature
Zeiss Tessovar literature (user manual, sales brochure etc.)
(thanks to Gary LaVallee for supplying the next three copies)
Depth of field with Zeiss Luminars
Photography with Luminar lenses
Nikkor F lenses literature
Micro-Nikkor-P Auto 55mm f/3.5 (1971)
Micro-Nikkor 55 mm f/3.5 instructions (1976)
Micro-Nikkor 55mm f2.8 AI instructions (1981)
Micro-Nikkor 55mm f/2.8 AI-S instructions (1984)
Micro-Nikkor 105mm f/2.8 AI-S instructions (1984)
Nikkor lenses brochure (1981, in French)
Nikon accessories literature
Nikon close-up equipment, sales brochure (1975)
Nikon filters (1980)
Nikon PB-6 bellows instructions (1986?, in Japanese)
Nikon PB-6E bellows extensions instructions (2009?)
Nikon PN-11 extension ring instructions (1984, in Japanese)
Nikon E2 extension ring instructions (1971)
Reproduction ratios with some Nikon lenses on PB-6 bellows
Nikon AF-1 and AF-2 gelatin filter holders (1975?)
EL-Nikkor lenses literature
EL-Nikkor sales brochure (unknown year)
EL-Nikkor sales brochure (1992)
EL-Nikkor sales brochure (1982)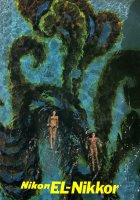 EL-Nikkor sales brochure (unknown year)
EL-Nikkor sales brochure (1982)
Nippon Kogaku EL-Nikkor sales brochure (unknown year)
EL-Nikkor sales brochure (1960)
EL-Nikkor sales brochure (1982)
EL-Nikkor (series N) instructions (1982)
EL-Nikkor (series N) instructions (1982, another)
EL-Nikkor 50 mm f/2.8 (series N) instructions (1979)
EL-Nikkor 135mm f/5.6 A instructions (1993)
Special Nikkor lenses literature
Nikkor lenses for large format cameras (1982)
Printing Nikkor brochure (2002?, in Japanese)
Printing Nikkor brochure (unknown year)
Process Nikkor brochure (unknown year)
Apo EL-Nikkor brochure (1982)
Apo EL-Nikkor brochure (1982, another)
Apo Nikkor brochure (1982)
Apo Nikkor brochure (1982, another)
Wide-angle Apo-Nikkor brochure (1982)
Ultra-Micro-Nikkor brochure (unknown year)
Ultra-Micro-Nikkor (unknown year)
Cine Nikkor Lenses (1982)
Micro Nikkor lenses, including screw mount (unknown year)